Evonik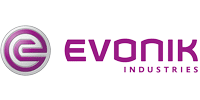 DEGADUR® resins are solvent-free, cold-curing methacrylate resins. The coatings systems based on DEGADUR® are fast curing, even in freezing temperatures, weather and aging resistant and easy to repair.
DEGADUR® resins are used in industrial and commercial flooring construction as a protective layer of mineral surfaces against mechanical and chemical stress as permanent protection of heavily loaded components against weather and mechanical stress as a tested system component to meet specific hygiene and workplace safety requirements as a system component for decorative surfaces.
DEGALAN® binders are innovative acrylic polymers used in most diverse applications that call for extreme weather resistance, colorfastness, and brilliance.
Supplied as solutions, or solids, DEGALAN® binders are mainly used in:
• marine and container paints
• road markings
• metal coatings
• plastic coatings
• architectural paint
• ceramic transfer lacquers
The Crosslinkers Business Line includes isocyanate monomers and polyisocyanates for epoxy and polyurethane applications.
The products are mainly used in industrial applications due to the mechanical strength, durability, chemical resistance and excellent adhesion properties. Some of the end-use areas where crosslinkers are incorporated are coatings and adhesives, civil engineering as well as high-performance elastomers and composites.
Functions
Markets